Buy it using PayPal
Also available from:
Or send a check or money order with shipping address to:
Unu Mondo Productions
P.O. Box 128
Dover, NH 03821 USA
(click on "Add to Cart"
for price+shipping)

LEGACY—the Complete Works of Do'a
New 24-bit Mastering from the Original Recordings
Includes 5 Compact Discs & 16-page Booklet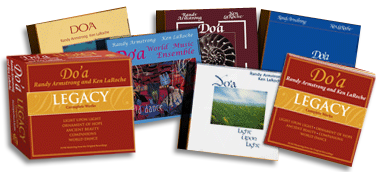 The Legacy Box Set features the complete works of Do'a — a partnership between Randy Armstrong & Ken LaRoche. The 5 cd set includes new 24-bit mastering from the original recordings with stunning sound quality and a beautiful design 16-page booklet.
Excerpt from "An Undying Thirst" written by Matt Kanner, The Wire:
"The collaboration between Armstrong and LaRoche lasted for 17 years, concluding with a concert at Harvard University in 1991. During that span, Do'a recorded five albums and played concerts all over the nation and world, helping to pioneer an all-encompassing style that has come to be known as world fusion. A sampling of the music's influences range from American folk and jazz to traditional African, Indian, Tibetan, Andean, Native American and Middle Eastern music." Read the full article.
Album titles include:
Reviews
"Before the Talking Heads recorded Remain in Light, before Peter Gabriel programmed his drum machines to play African poly-rhythms, before Paul Simon and Graceland, and before the term "world music" was ever coined, there was Do'a." — Lahri Bonds, Dirty Linen Folk and World Music Review
"One of the important contributions to the future of our music." — Jazz Legend, Dizzy Gillespie
"A marvelous kaleidoscope of shifting melodies, rhythms and instrumental colors." — Downbeat
"Powerfully optimistic songs delivered with striking originality." — Boston Globe
"A rich collection of compositions featuring traditional and archaic instruments which provide the listener with a sense of peace tinged with a certain sadness that isn't found very often in today's music. This is spiritual jazz." — Billboard